Best Foods To Serve On A Corporate Catering In London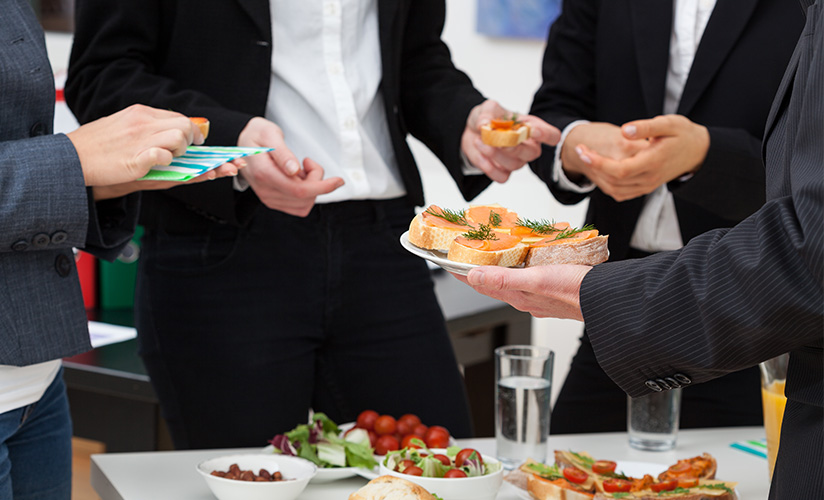 Are you wondering what to serve on your next corporate event? There is no need to worry, we've got you sorted. Be it the casual meeting, a luncheon at your offices or a corporate dinner, we have put together some menu ideas for your catering that are really going to rock your world.
No one can work on an empty stomach, but how do you keep the menu diverse and healthy? Tea and biscuits are obviously always welcome. Often, though, these quick snacks do not provide sufficient nourishment for busy minds that need to be brainstorming. We believe in healthy, seasonal food that will give your co-workers energy and a pleasant break.
When it comes to corporate catering, there are many different options to explore. The menu should be relevant to the time as well as the duration of the meeting. We grouped our corporate catering ideas from dawn to dusk to inspire you on healthier snacks and even full meals that you can easily share and enjoy.
Morning Meetings Catering Ideas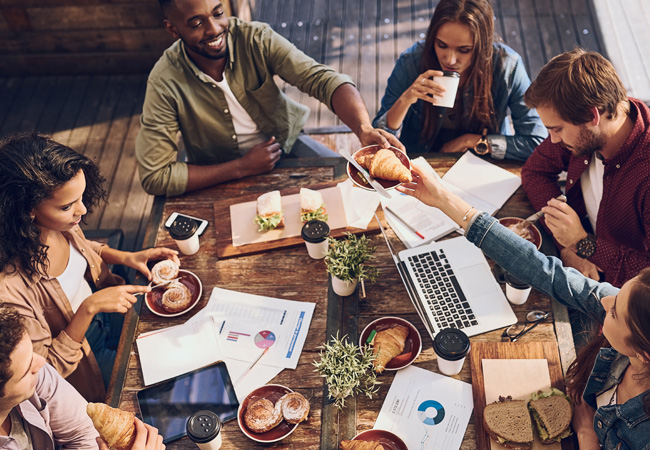 A breakfast bar – apart from a strong, aromatic cup of coffee there is an array of options to give your team a morning boost. A breakfast bar can easily become the best solution. Fresh juices and breakfast bowls, yogurt and fruit salads as well as assorted snack bars are proven to be not only delicious treats but an energy powerhouse that will keep your meeting's members minds fresh and full of energy.
Alternatively, if the setting allows, you can have a warm buffet with a full English breakfast. Buffets work perfect in larger meetings and are ideal for socialising. You can include a selection of savoury and sweet dishes and even vary the dishes for exclusively vegetarian options. There is nothing more filling than a good plate of scrambled eggs or baked beans with sausages, hush browns, juicy roast tomatoes and mushroom fry-ups for a full English. Adding a selection of sweets, such as cake slices or cupcakes and snack bars to accompany tea or coffee it is ideal, especially for long morning meetings.
Corporate Lunch Catering Ideas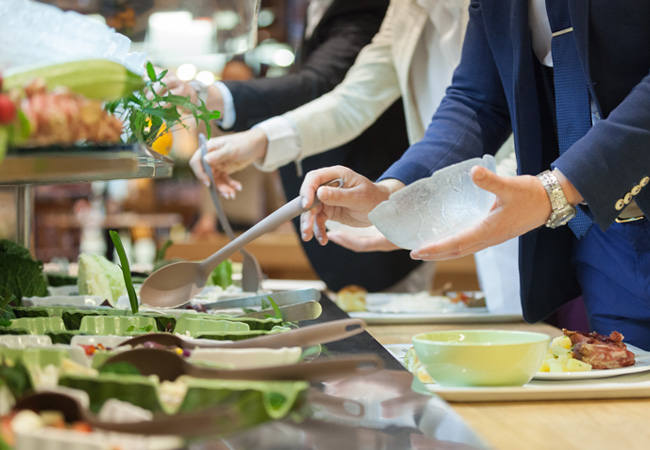 Sandwich classics – There is nothing more convenient than small nibbles with favourite sandwich fillings. From old time classics like ploughman's cheese sandwiches to rich salmon sandwiches the choices are as bountiful as the people you are serving. Skinny vegan wraps also work wonders and you can vary the sandwich fillings to your heart's content, from vegan all the way to oriental rice paper wraps. Make sure to include great artisan products and make your mark using classic flavours with excellent quality ingredients.
Lunch box reinvented – It doesn't need to be all about the wraps and sandwiches. Convenient as it made be, a sandwich and a bag of crisps can be a tedious necessity in office surroundings. Instead of sharing platters or buffet style corporate catering, you can offer a variety of healthy and nutritious lunch boxes individually to the participants. The key to success is to include something classic, such as caprese skewers, something healthy, such as a fresh salad and something no one has tried before like modern, innovative versions of classic dips such as beetroot humus or cream of feta sauce with breadsticks or vegetable sticks. You can also include fresh juices and refreshments or a warm selection of beverages such as tea or coffee.
Dinner Ideas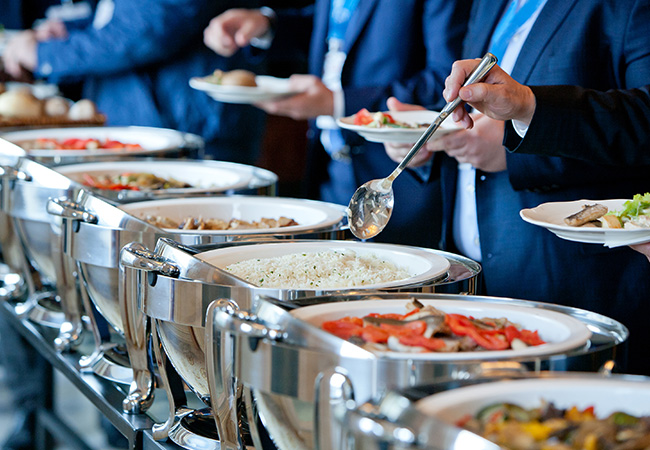 Corporate dinners are much more enjoyable when a theme is involved. Themed menus can make your evening fun and much more meaningful. There are many cuisines that prove to be great crowd pleasers, such as Italian, Mexican, Thai or Chinese to name just a few. You can easily incorporate a fun element into the evening. A good example would be the ever-popular Mexican dishes such as fajitas, guacamole and pico de gallo amongst other. You can even choose to give it an informal, playful twist presenting it as street food. If you wish to go for a set 3-course meal oriental cuisine might prove to be a better alternative. Thai and Vietnamese offer great selections of soups, healthy and interesting main dishes and also desserts.
Healthy Snacking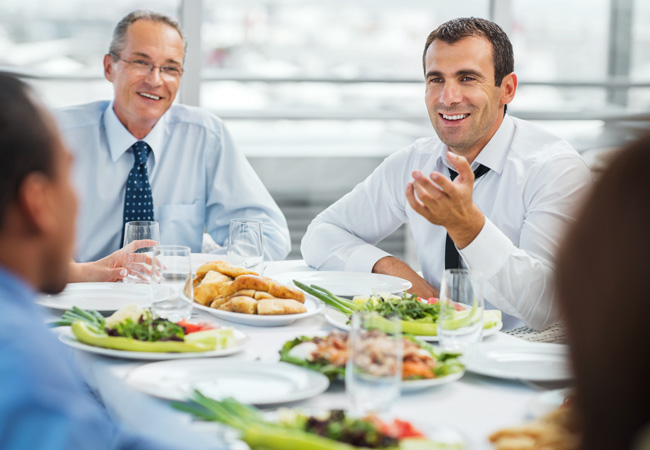 Last but not least, we have the most versatile corporate catering idea: healthy snacking. It is easy to opt for this any time of the day and it is very similar to lunch boxes. Think of small nibbles that will boost your energy regardless of when you hold your meeting. It can include savoury as well as sweet treats, such as nuts and dried fruit, cheese and crackers, fruit salads and juices. You can also incorporate energy snack bars, many of which can be gluten-free and non-GMO options are also available. It is possibly the best way to boost productivity any time of the day and keep your team sustained with healthy snacks.
Related Posts
By accepting you will be accessing a service provided by a third-party external to https://www.foodbytoby.london/